Eat for Energy: 4 Weeks to Reboot Your Metabolism
Dear Hormones.....time to make you my b*tch.
Let's allow that to be your theme as you take back control of your hormones and begin EATING FOR ENERGY....what to you think?
I totally get it too! You are COMPLETELY frustrated that despite "eating healthy", you are still carrying excess water weight or that annoying 5-10, even 20+ lbs? 
What if those "healthy foods" that are deemed to be the holy grail of all foods to assure you'll live your best life, is making you feel miserable and defeated? 
What if we looked at "healthy eating" a little differently?
What I'm saying is....EATING FOR ENERGY!
Like eating to restore your hormones and have your entire motherboard, harmonize internally, to feel incredible, externally.
Ever heard that concept? It's not ground breaking....I get it....BUT, makes perfect sense, when you think about foods purpose.
And I'm NOT talking about a new diet. In fact, I'm all over here in my corner, preaching the ANTI-DIET! 
To me, "DIET" means restriction and no fun! Eating can be fun. Doesn't have to be torture or a bad thing! Seriously....
There is NOOOOOO one-size fits all, when it comes to the right nutrition plan. 
I know, you probably want to punch me in the face, as you just want to be "told what to do", as one more thing to thnk about, might put you over the edge. Am I right? 
But trust me! I've been working with women that have come to me with this VERY challenge. 
"Taryn, seriously, WTF! I can not, for the life of me, figure out why I've been gaining weight, when I'm eating healthy! What gives??"
"Um, how come this extra 5 lbs will NOT leave my waistline, Taryn? Help a Mom out!"
OR…..
"I'm the queen of healthy eating and since I hit my 40's, something has shifted and I can't figure out why I can drop a single pound, let alone the extra 10 that's crept on to my a$$, lately."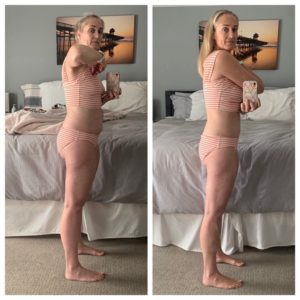 Relate to any of this??
Seriously, it's NOT you...it's the CHEMICAL REACTION that these "healthy foods" may be having towards your hormones.  They ARE NOT designed to work for you - at least not right now or in the current hormone cycle you are in. This reaction, is what is causing your body to be inflamed, resulting in extra weight gain. 
Annoying, I know! Again….trust me! 
And no, I'm not going to tell you to go back to pizza, fried foods and processed foods, BUT, I definitely want to help you establish FIRST, a baseline. This is to recalibrate your metabolism and begin to set your body up to identify what healthy foods work for you, and which ones DO NOT!
You may find relief, and shock the shit out of yourself, as we go through this. But trust, it can be fun and I guarantee - INFORMATIVE!
Oh boy, this is going to be fun. 
Now, I can attest to this, as it's what started this quest for me to figure out how they hell I've gained 8-10 lbs over the last 4 years. Now being in my early 40's, it's harder than ever to drop weight, despite watching portions, cutting our food groups, eating healthy and basically living LAME! I was frustrated, overwhelmed and felt like a fraud, as my JOB is to help other women find their solution. Not cool, man, not cool. 
And I pride myself in working with clients to assure them, that yes, the forefront of this process is a bit intense and "experiment-y" (super technical word), but once we figure it out together, you'll be relieved and almost freed! 
For those that I've worked with on 2B Mindset or Ultimate Portion Fix (UPF), you may be like, now you are going to tell me those strategies DO NOT work?
Nope, they definitely do. But like I said, some of those healthy foods, just may not be a fit for you and your hormone structure right now. 
Hear me out…..
Learn what foods work with YOUR metabolism, YOUR hormones and YOUR body's needs! 
As we age, we go through different seasons of life. We have different stressors, shifts in the lunar cycles, different environments, exposures to food, hormones change, blah, blah. It's beyond annoying, but you definitely are NOT alone, and there is 100% hope!  
Here's the breakdown of my 4-Week Eating for Energy Course: 
28 Days of a 2 phase nutritional reset. (*option to add a 3 Day "plant based" Refresh system to start. Email me for details).

Phase 1 = SYSTEM REBOOT. In this phase we will transition you into a "low reactive" food plan. 

Phase 2 = TESTING or EXPERIMENTAL PHASE. This is where you start to test foods that work for your body, lifestyle and culture. I advice you on a scale of low reactive to high reactive foods, that you incorporate into self-designed, meal plans (with some guidance) to see how your body responds. This will be the bulk of the programming, as we start to work through foods that do or do not work for you.

During  each phase, you are given a deep dive into elements of your metabolism, to bring awareness to how your body FEELS, as you rise the next day. 

This is a jump start into feeling better about yourself and starting to accumulate tools and foods, that are going to help you drop the extra bloat, clear the head fog, relieve joint pain and help you get back in control of your body again. 
How's this so far? 
All the questions, right? That's ok….I'll take them. 
But if you are wanting to do this, here's the requirements, as I'm SUPER transparent, so you know your financial and time investment up front. 
Now, this is NOT a quick fix nor a 28 day thing and go back to having your Dunkin' Donut treats and the stuff that got you here in the first place. You are committing to YOURSELF, to trust the process and be a bit of a science experiment, as this 110% goes beyond the 28 Days. This is just your baseline, a do-over, "let's wipe the slate clean and reset", if you will. This whole process can take up to 6 months to truly start to learn the foods that are best adaptive to your body type. Cool?? 
Take it from Teri. She's in her late 40's, was apart of my Beta group when I launched this and has seen incredible results!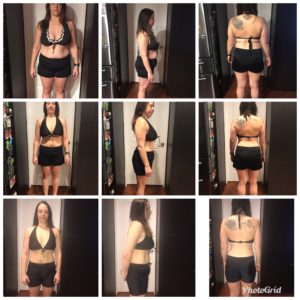 REQUIREMENT: 
Each participant MUST be registered as a 1:1 client or group Coaching to participate.
You must commit to trusting the process, in order for the most effective results.
Each participant is added to a MEMBERS ONLY private client group!
Here's the programming: 
Prep Week = 5 Days
Nutritional "Reboot" - Week 1
Testing Phase = Week 2 - 4
During each phases, you are given a deep dive into elements of your metabolism, to bring awareness to how your body FEELS, as you rise the next day.
This is a jump start into feeling better about yourself and starting to accumulate tools and foods, that are going to help you drop the extra bloat, clear the head fog, relieve joint pain and help you get back in control of your body again.
All information is provided in a private FB group with my clients going through it as well
Daily email for you to keep and refer back to.
1 month of meal ideas to help stimulate ideas to "test" during, which continue with each month as a member.
REMEMBER....
This isn't a "start & stop" kind of thing. It's a NUTRITIONAL STRATEGY that takes time to explore, test and tweak, because as females, our bodies are ALWAYS changing. Hormones play a huge role, especially with when we cycle, how often, our environmental stresses, historical "diets", etc.
DEADLINE DATES:
ASAP - we are getting started with Prep stuff this week!
Now!! Now is the time! Because tomorrow, you'll talk yourself out of it, yet still find frustration with yourself, because you "eat healthy", "eat low calories" or "intermittent fast", yet still carrying the extra bloat. With how stressed out we are these days, NO ONE has time for that! #amiright 
You ready to roll? If so, click on this "Ready to Start" button and fill out the form so I can set you up ASAP!!