21 Day Holiday Challenge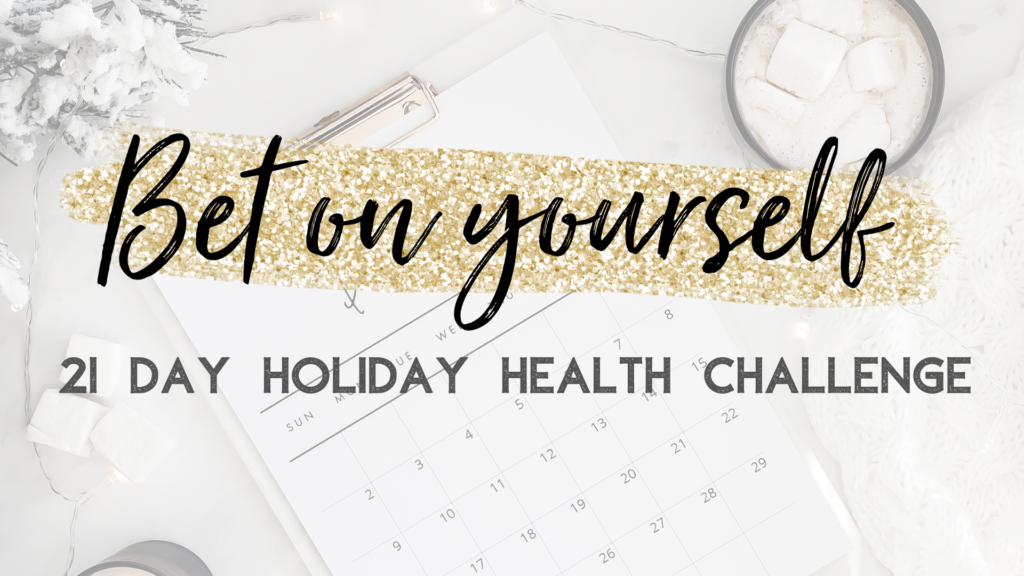 BET ON YOURSELF - 21 DAY HOLIDAY CHALLENGE
What if we looked at the holiday's a little differently each year?
Not so much fear and worry about gaining weight over it, but comfort and ease, knowing we can ENJOY them, treat ourselves and STILL maintain, or better yet, LOSE weight while focusing on going into 2020 (hello BARRE BLEND), healthy and with a solid mindset? 
I'm excited to stick together during the Holiday season, be accountable for 21 days, during the 2 holidays that tend to send us into a spiral. And I will admit, I have VERY LITTLE willpower this time of year, when I'm NOT accountable to something. 
Every year I run mini challenges during the US Thanksgiving & Christmas holidays - and what's cool - those that do it with me, 93% tend to MAINTAIN their weight or lose a few lbs. Solely because we are working on being mindful of our choices, NOT depriving ourselves. We recognize there are amazing treats ALL around us this time of year, and instead of giving in and justifying them, we validate the urge, decide if it's worth it and make the decision based on our goals. 
 All that being said, when you come out of Thanksgiving feeling depleted and overrun (maybe hosting all the family, traveling to see family or just "took a break from eating healthy"), sometimes we need a quick boost to get our mental state back on track. 
And there is NOTHING wrong with getting a quick shot to refocus, as long as it's with a healthy mindset.
Who's with me on this?? 
So, what if you BET ON YOURSELF, and commit to the 21 days knowing you can stay committed and hit some goals, thus rewarding yourself at Christmas? Hence the "bet" idea?
Before we kick this off, everyone will share what their goals are on a thread, so we can we catalog them, track and celebrate who hit it at the end. #betonyourself
Here's the goods....
REQUIREMENT: 
Each participant MUST purchase a 3 Day Reset Challenge Pack/Completion Pack or Kit to participate. Those that currently have Shakeology HD, can purchase the maintenance kit (ask your Coach to set it up). 

BOD is NOT required, although included in the Challenge Packs as a sweet deal, so worth having easy go-to workouts, to compliment your nutrition & holidays (think Little Black Dress!!)

If you are me, I'll be adding the Power Greens (boost) and collagen with the challenge, so ask your Coach about that too!
Each participant will receive a Momstrong Journal to track and set mindful practices going into 2020.
Here's the programming: 
Prep Weekend: Nov 29th - Dec 1st
Kick off date: Monday Dec 2nd 
End Date: December 23rd 
3 Day Refresh should be ordered BY: Week of Nov 18th to assure delivery (holiday delay, etc).
Day 1 Measurements/Photos/Weight: Due December 1st
Day 1 - 21 Nutritional Programming
Day 1 - 3: 3 Day Refresh (Taryn will set up the appropriate order for you). 
Day 4 - 6: 3 Day "Low Reactive" Meal Plan (provided to participants)
Day 7 - 21: Working through 2B Mindset or UPF with foods that are body has been responding to. Taryn will provide a list of foods to pick and choose from, to help support goals, while giving the group the empowerment to pick foods they like the most. 
Daily - Shakeology will be a snack or meal. 1x a Day only 
Daily Nutritional Recommendations:
Eat Real Food: Vegetables and Lean Proteins (see list of best "low reactive options), Nuts and Seeds (in moderation), some Fruit, a little Starch.
Grains/Starches - 1 - 2x a day, but measured out, and see best options to maintain results. 
Example Food List will be posted!
Let's have some fun - who's up for tracking POINTS to win some goodies - SWAG, Shakeology bundles, Gift cards, etc? *
Scoring – Point System: 
4 Points – Perfect day of eating: No treats (sugars, processed foods, etc).
3 Points – One minor slip: Creamer in the coffee, condiments (store bought salad dressing, mayo, bbq sauce, ketchup, etc), snacky crap or treat. .
2 Points – Significant slip, but not an entire meal: eating your kids leftovers, mindless snacking, candy bowl or…..
1 Point – Major slip: A whole meal or multiple significant slips. Pizza or pasta for dinner, 2-3 beers, ice cream.
0 Points – More than one solid treat throughout the day: 2+ meals lost.
______________________________
Bonus Points:
There is a chance for up to 5 bonus points per day. Earn one bonus point by any of the following:
A Beachbody On Demand workout that day

8+ hours of sleep in a night.

64+ oz of water per day (get yourself a Nalgene and drink 2+ per day)

Drinking a Shakeology that day

Posting in this group a picture of you, your meal, or your workout!

Sharing a recipe w/ photo of YOUR personal creation.

Posting and tagging workouts/meals, etc. on IG - Must TAG YOUR COACH to count. 

Double points if you invite a friend (only applicable for customers)
* Prizes only eligible to customers and/or new coaches that enroll during this challenge. 
DOUBLE BONUS:
Spend 5-10 mins each day to journal, meditate and/or set your intentions to continue to stay in a positive mindset through this challenge, and create habits going into 2020! 
Click below if you are ready to do this! We are in this together - like I said, these are my FAVORITE challenges to do, as it keeps me accountable as well!