Momstrong Transformation Journal
You need this journal. Plain & simple.
I'll explain why, thought, as everyone likes to know why they need this in their life.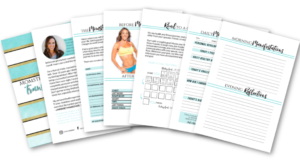 So let me ask you a few questions:
Have you tried every diet known to man? Yup, me too.
Have you tried every journal or even TRIED to get into journaling, but nothing had all the right things you need?
Do you have a journal for food tracking, then affirmations and maybe your to-do list?? Yah, me too!
Over the last 10 yrs of working with clients on their
nutrition
, AND going through research mode with my own changing body, I found structure into what kept me in tune with my goals, so realized I had to bring it all together in one perfect, hand-held journal.
Yes, just wait, the print edition, will fit PERFECTLY in your hand bag, diaper bag or right next to your smartphone in your hand!
I took elements of what worked for my clients that were dropping weight like crazy, and KEEPING IT OFF! Yes, they weren't gaining it back, they were KEEPING it off!
How are they doing it?
We started reframing the mind to have the
weight loss
, be a by-product of what needed to change, first and foremost - their MINDSET. Most of them, didn't have confidence or belief in themselves, that they could continue to lose weight, because like YOU & ME, they too, have tried every diet known to man....and failed on the sustainability aspect of it.
The missing link?
A shift in their mindset. We worked to get to the CORE of why they continued to bounce back to old habits. We worked on the ROOT cause of their relationship with themselves & how food came to play a role in it.
It wasn't about finding the "diet" that was the holy grail of all diets, it was about addressing WHY they didn't have the confidence, believe & hope in themselves, to keep going and live successfully and sustainably, without feeling deprived and restricted.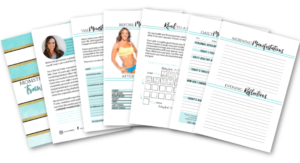 I collected information from my clients, and from there, recommended books, such as
Mel Robbins, 5 Second Rule
& her free
MINDSET RESET Podcast
, to help them address things internally, and bring to the surface, triggers that put them into these set backs.
I'm not a therapist or a Doctor, but I am a believer in people like YOU, that's reading this right now, and knowing you have the power to overcome the set backs, if you give yourself the tools, community and time, to do so.
So, back to WHY I created the Momstrong Transformation Journal?
Because I recognized having the tools all in one cute, hand-held, wire-o bound book, was one of the very catalysts, that supported their sustainable results.
They had their goals, dreams & mindset activities, with them at ALL times, to remind them, they mattered enough to give a shit. This journal addresses all elements of wealth in life - career, happiness, health, fitness, gratitude & mindset.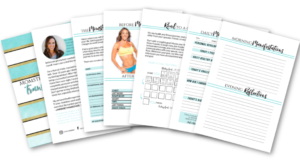 It's been a passion of mine, ever since things clicked for me, to allow other women (men, you too) to see value you in themselves, that they didn't have to chase that next diet, just because their best friends, co-worker is dropping weight with it...but that there was a diet designed SPECIFICALLY for you, as an individual, but wasn't necessarily related to the calories, macros or points. It's in your head.
I can't wait to get this Transformation Journal in your hands and help you begin to restore confidence & belief into yourself, so you can move on to live your best life, in your best body.
** For the month of March, every [paid] download of this journal will be given a BONUS gift of my 4-Week Mindset Workbook, that compliments the pages and function of your new Mindset Transformation Journal!