NEW - Beachbars!
Do you bar?
I'm not always one to recommend protein bars, but I see there to be a place & need for them, when you are needing something in a pinch, and isn't full of all the garbage you'll find in most protein bars on shelves today.
I love that the creators of these bars - the same ones that put the UTMOST thought into Shakeology and our Beachbody Performance Line ingredients - took their time putting these together to assure they aren't just ANOTHER protein snack bar. 
Check out the new BEACHBARS available today! 
The two Beachbars flavors are Cherry Almond and Peanut Butter Chocolate. We've tried many bars in our life, and although it's doesn't replace my daily Shakeology, I will use them when on a busy jammed packed day. 
If you are following the fixate, 21 Day Fix, or 80 Day Obsession Meal plan The Portion Fix Container equivalents for one BEACHBAR are: ½ red , ½ yellow , 1 teaspoon (oils and nut butters).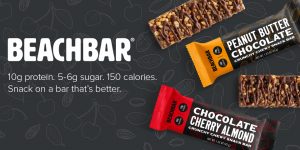 THE BEACHBAR FACTS:
The Beachbar comes in Peanut Butter Chocolate and Cherry Almond.
The Beachbar is only 150 Calories
The Beachbar is GLUTEN-FREE
The Beachbar has 10 Grams of Protein
The Beachbar has 4 Grams of Fiber 
The Beachbar has only 6 grams of Sugar 
The Beachbar has NO Transfats 
The Beachbar has zero grams trans fats, contain no artificial colors, flavors, or preservatives.
WHAT INGREDIENTS ARE IN THE BEACHBAR?
The BEACHBAR has a combination of crunchy, protein crisps, nut pieces, chocolate chips, creamy nut butters, and fruit chunks (in the Chocolate Cherry Almond flavor) two ensure the best taste that you will experience. You can have your Shakeology in the morning and a Beachbar in the afternoon as a snack!
Whey protein crisps — Whey protein comes from milk and delivers all nine of the essential amino acids that you need to help promote lean muscle.
Pea protein crisps — Pea protein is considered a quality, plant-based protein source that supplies key amino acids from botanical sources to help support muscle protein synthesis.
Diced peanuts and almonds — Peanuts and almonds are a source of beneficial monounsaturated fats. They also provide nutrients like protein, fiber, and minerals and add a rich, nutty flavor to your bar, and a satisfying crunch.
Peanuts and almond nuts — Nut butters layer in a creamy texture and provide another source of protein and fiber.
Chocolate — Chocolate is not only a delicious treat, it also comes from the cocoa bean, which contains phytonutrients known as flavonoids.
Dried cherries — Dried cherries are a sweet, chewy, and flavorful source of beneficial dietary fiber and phytonutrients.
Pomegranate juice – Pomegranate juice adds a sweet-tart kick and supplies phytonutrients.
WHY SHOULD I USE BEACHBARS?
It's quite simply one of the best ways for you to satisfy your sweet tooth ( if you have one like me) with something that is Gluten Free ( hard to believe because of it's chewiness!), with not artificial colors and flavors, not transfats, and has MORE protein than it does sugar.  You'll LOVE the taste and if you don't like them, send it back.