[RECIPE] Thai Peanut Chicken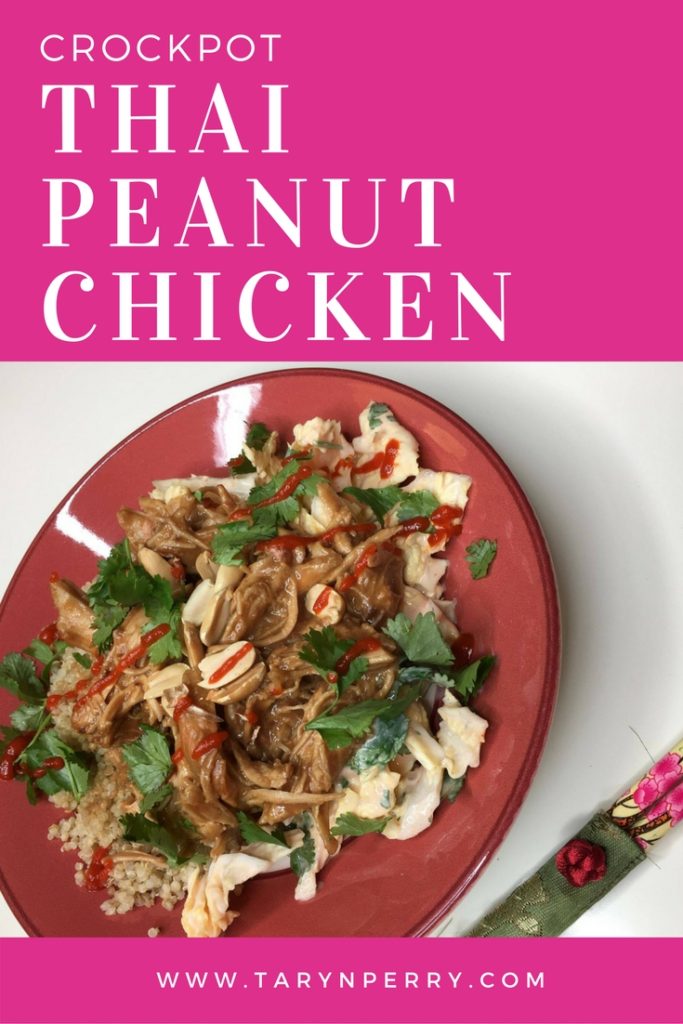 Thai Peanut Chicken
Author:
Cook time:
Total time:
Ingredients
For The Chicken:
1/4 cup low sodium soy sauce
1/4 cup natural peanut butter
2 tablespoons honey
1/2 cup light coconut milk
1 1/4 teaspoons ground ginger
1/2 teaspoon garlic, minced
1 pound chicken breast, trimmed of fat
1 teaspoon cornstarch
For The Bowls
2 cups water
1 cup quinoa, uncooked
1/2 cup plain greek non fat yogurt
1 tablespoon sriracha chili sauce, plus more for garnish
1 head napa cabbage, roughly chopped (about 4 cups chopped)
1/2 cup fresh cilantro, roughly chopped, plus more for garnish
salt
Instructions
In a large, microwave safe bowl combine the soy sauce, peanut butter and honey. Microwave for 1 minute, until peanut butter begins to melt. Whisk together until well mixed.
Whisk the in coconut milk, ginger and garlic. Place your chicken breasts into the slow cooker and pour the sauce on top. Cook on low for 4 hours.
Once the chicken has been cooking for 4 hours, remove 2 tsps of the sauce and place into a small bowl. Add the 1 tsp of cornstarch into the bowl and whisk until smooth. Pour the cornstarch mixture into the slower cooker, whisking well to incorporate it into the sauce. Cook for another 45 mins to an hour to thicken the sauce.
While the sauce is thickening, bring the 2 cups of water to a boil. Add in the quinoa, turn down the heat to low and cover the pot. Cook until the water is absorbed, about 15 mins.
While the quinoa cooks, stir the Greek yogurt and 1 Tbsp of Sriracha together in a small bowl. Set aside.
In a large bowl mix together the chopped Nappa cabbage, and ½ cup of chopped cilantro. Add in the Greek yogurt and stir until the cabbage is evenly coated. Season with a little bit of salt.
Remove the chicken from the slow cooker and shred with two forks.
Divide the quinoa and cabbage mixture between 4 bowls. Top with chicken, toasted peanuts, and additional cilantro and Sriracha, if desired. Drizzle on the remaining peanut sauce and DEVOUR.