[RECIPE] Sweet Potato Casserole
I love the holiday's. Not only is it a chance to get family together and focus on love (sappy, sappy!), but we get to eat SWEET POTATOES!
Well, at least in my family.
Although, come to think of it, doesn't really take a holiday excuse to eat sweet potatoes. I could have them morning, noon and night, 365 days a year. Seriously. I love them. And the nutrient benefits, are bar none!
Every year, I try and perfect my Mom's infamous Sweet Potato casserole. I've healthified (is that even a word??) it as best as possible, so here you go: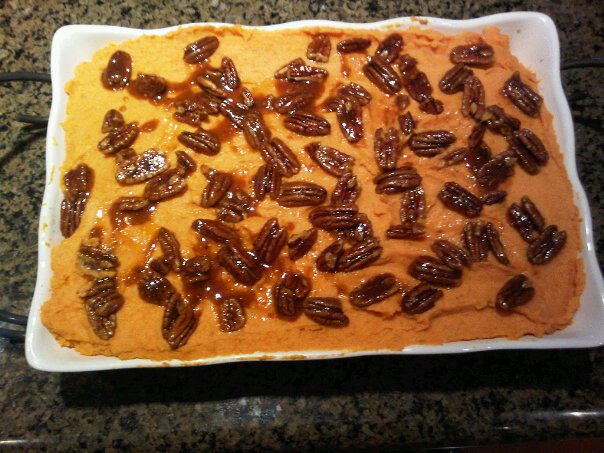 INGREDIENTS:
3-4 medium sweet potatoes
2 tbsp of Grass-fed butter (I prefer Kerrygold)
1/2 cup coconut milk
1 cup of pecans
2 tbsp Coconut sugar or Black Strap Molasses


Dash of cayenne Pepper

Salt & Pepper

 

INSTRUCTIONS:

Pre-heat oven to 350 degrees. Cut sweet potatoes and steam until tender. Blast in food processor, add in grass-fed butter and milk of choice. Add cayenne, salt & pepper to liking. I get a little liberal with these, mostly the cayenne, unless there are lots of kids eating it. Then I have to dial it back a bit. Fold into an oven safe baking dish.

PECAN TOPPING: Add pecans to sauté pan, add 1 tsp grass-fed butter, coconut sugar or molasses and caramelize pecans with cayenne. Add them on top of the sweet potato dish.

Place in oven for 15-20 mins, or until brown on top. You can fire on the broiler for a nice touch! :)


There you go! These are a staple at the holiday's for us. Would love to hear your favorite HEALTHIFIED holiday recipes! Come by my
Facebook
page and show me what you have! I love new recipes to play with! Have some posted on
Instagram
? Tag me there too!