[RECIPE] Easy Homestyle Chili
There is NOTHING better a hearty, healthy home cooked chili, on a crisp fall or winter day.  Agree?
This recipe has been in my family for years and has yet to be messed with, other than swapping out the meat between ground beef, bison or ground turkey.  Too each their own, but regardless, so simple to make and is even better on Day 2.
Get a big ol' pot out and get ready for some salivating glands as you cook it:
Serves roughly 6-8 people or 4 with LOTS of leftovers (again, DELICIOUS on day 2 and cold).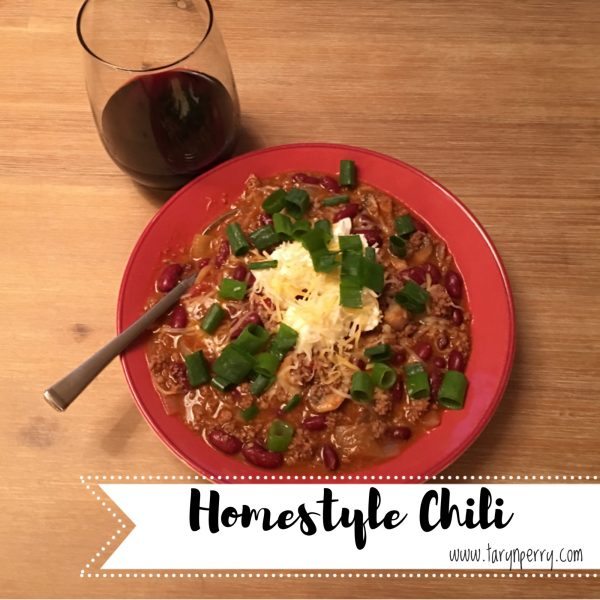 INGREDIENTS:
2 packages of lean (grass fed) ground beef or turkey
1 medium onion
1 1/2 package of mushrooms
2-3 cloves of garlic
2 15 oz cans of kidney beans (low sodium)
1 large can of stewed tomatoes
1 Family Size of Tomato Soup
1 tbsp of chili powder
1 tbsp of crushed red pepper (or more if you like it spicy)
Salt and pepper to taste 
WHAT TO DO NOW:
Brown the meat, onions and garlic in a large sauce pan, over medium heat.  Add mushrooms once meat starts to brown.  Add one can of kidney beans with juice and one can of drained kidney beans.  Stir well.  Add can of tomatoes, tomato soup and stir well. Finally, add chili powder, crushed red pepper and salt/pepper.  Stir occasionally and let simmer for approximately 45 minutes to an hour to allow all flavors to marinade.
Serve with sour cream (or greek yogurt), fresh chopped green onions and shredded cheese.
Let me know if you try this and share your renditions with me!
Enjoy!!
P.S. Don't forget to pop over to my
Facebook
&
Instagram
pages for more meal ideas and fitness inspiration.