The Next Ultimate Momstrong Challenge
Remember way back when those rainbow portion control containers came out?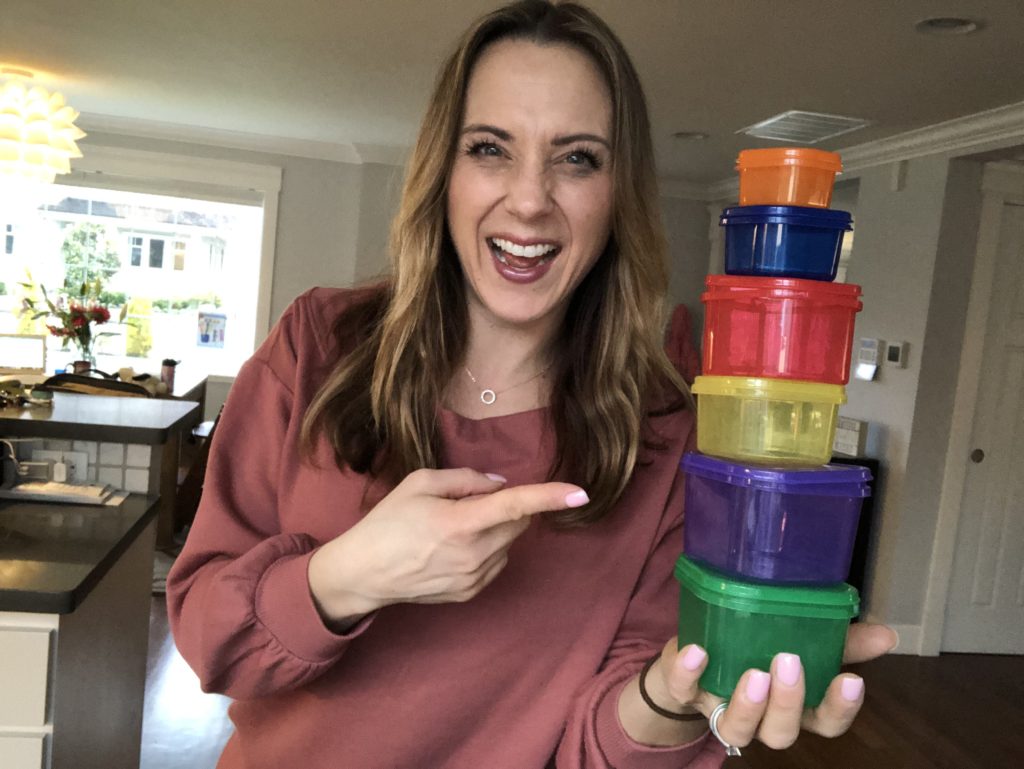 We all scratched our heads and were COMPLETELY overwhelmed with how to make them work? Yes, those ones. The good news is, we figured them out for you!
Even BETTER NEWS, Autumn, who created them & 21 Day Fix/Extreme, is back and revamping the nutrition program to make it EVEN BETTER!  You guys, I am so excited for you to experience this program! Portion controlled containers are game changers for those that S T R U G G L E with figuring out proper portions, macronutrient foods (healthy fats, proteins & health carbs) and when to eat them.
"But Taryn, I thought you followed a
Mindset nutrition
approach?" Yup, I do...and portions STILL matter.
Getting a handle on portion control is just the beginning. In this new program, we are going to dive in to other principles including balanced macronutrients, eliminating processed foods from your diet and the dreaded SUGAR DRAGON.
Yup, the Ultimate Portion Fix will help you break your sugar addiction, get your whole family on board with eating healthy, and teach you how to maximize your nutrition for performance.
This is about giving your body exactly what it needs to operate at its best! No starving. No random points that disregard food source. No counting calories. No trendy fad. This is how you enjoy food, and get the most out of it because it feeds your body what it needs in the right ratio!
Plus, as you'll be armed with the tools on how to best eat for your goals, I come in and work to fine tune your Mindset with you, so you can keep this practice up, for the rest of your life! Seriously, just watch!
Ok, you want details, I get it!
What's included in the program?
Over 30 new videos about the containers and principles of the nutrition plan

Portion control containers

A workbook and daily logbook

Fixate Volume 2 Cookbook with 102 new recipes

Access to over 200 episodes of the Fixate Cooking Show

75 Healthy Lunch Ideas for Kids PDF (every parent's DREAM!)

Tracking with the Nutrition+ and Beachbody on Demand apps

BONUS:

When you purchase the Ultimate Portion Fix before April 1, you'll get real time streaming of 21 Day Fix and 21 Day Fix Extreme Workouts, so you can work out together with Autumn Calabrese starting April 1, 2019

EXTRA BONUS: Option to get access to her personal TEST GROUP [*message me ASAP]
For my Road Warriors
: The Combo pack will also include an Insulated Beachbody Tote Bag that comes with large partitioned containers, ice packs, and plenty of storage so you can take your food with you wherever you go.
But the best part of purchasing the Ultimate Portion Fix is that you get access to me as a Coach AND an invitation to my Momstrong Bootcamp Group!!
When does UPF launch?
The program comes out on March 18th, 2019 for customers and we start live workouts on April 1st.
If you are interested in earning a discount, making an income OR being in her private Test Group, you can get early access to the program on NOW by signing up as a coach. If that sounds like something you'd like to do,
click here
.
Why work with Taryn Perry?
Sure you can get the program and run with it on your own, but if you are like me, I thrive in having others go through the process with me. Plus, my personal research proves, results happen 100x over, when accountable to a Community vs going at it alone.
I started my whole journey in June of 2008 with P90X and if it wasn't for a group of people to connect with to support me through the process, I may have thrown in the towel.
Since having my Coaching and Nutrition in practice for the last 10 yrs, I've helped 1000's, just like us, get over emotional eating, sugar addictions, over-snacking & most importantly - MINDSET barriers. In fact, I created the Momstrong Community so I could bring others together that needed that outlet and influence to keep going, especially when our mindset wants to tell us otherwise.
What you get out of my Momstrong Bootcamps!
As your Coach, I'm here to assure a TWO THINGS :
You have a KICK ASS experience with the process, and;

You get the results you (realistically) expect. Which we work on formulating together, so you don't have false hope. ,
I run all my Bootcamps via a private Tracking app, with the option to be included in my VIP Facebook Community, if you prefer to keep things there. These are which basically a safe space for my clients to talk about their daily challenges, have their own outlet and cheer each other on. It's an online support group and I provide motivation and tips from my own personal toolbox that have helped me to create a sustainable lifestyle for myself and others. It is honestly one of my favorite parts to what I do,  because I love being able to help you crush your health and fitness goals and give you an environment where you can also make new friends. Plus, the cool thing is, so many of us have becoming good friends and will do the next program launches as a team!
In my Momstrong VIP Community, here's what I'm going to help you with:
meal planning

understanding portion sizes

Getting back to basics and keeping meals simple

cutting out processed foods

dealing with your sugar addictions

how to stay on track when you are traveling or busy

getting your whole family on board with clean eating

and more!
The group will start
ASAP so definitely grab your spot....or fair warning - MAJOR FOMO alert!! 
When Can I Purchase UPF?
Ultimate Portion Fix launches on March 18th for customers. If you are interested in signing up as a coach, you can actually
purchase the program and get access today
! Plus, by purchasing a Challenge Pack you will be able to waive your coach sign up fee ($40) plus trigger the 25% that I reap every month too.
If you are interested in signing up as a coach, you can also get UPF Certification which will give you a deeper dive into the program, soft-skills training, and social media marketing tools so that you have the confidence to more successfully attract customers, run Challenge Groups, and personalize the program to each and every customer, elevating their experience so they get even better results.
Here is a graphic that breaks down the different packages for you.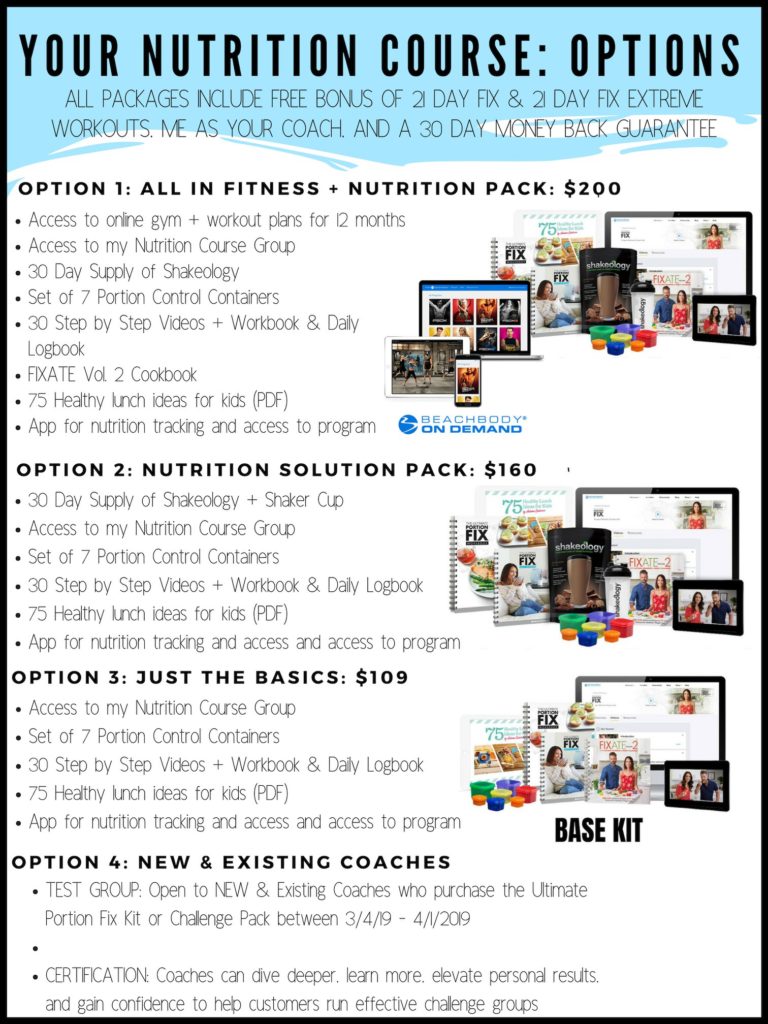 If you are ready, fill out this quick form, so we can get you set up ASAP!