Why Shakeology?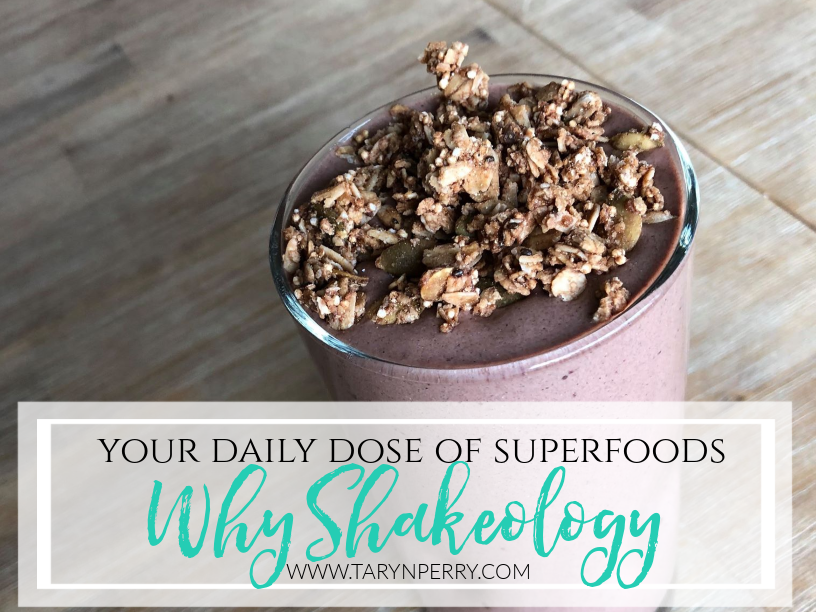 The Daily Superfood??
Basically, why Shakeology? As I've been drinking it for over 9 years (as has my entire family), it's a my daily nutritional staple. I'm all about healthy convenience, WITHOUT compromising my goals or my nutritional integrity - aka ingredients.
Here's the skinny on Shakeology!
It's truly unlike any other "meal replacement" shake on the market. With over 70 whole superfoods from around the world, it will replace your vitamin and probiotic, fill you up, give you natural energy (without caffeine), and tastes delish! Plus it helps your hair, skin, and nails - BONUS! And it has nothing artificial!
And since I've simplified my eating practices over the year - MINDSET NUTRITION - it's one of my 3 meals of the day. Which makes meal planning - BRAINLESS for me. I either have it for breakfast or lunch! I prefer it as a thick smoothie (yes, I love to spoon it up) or smoothie bowl with some Purely Elizabeth sprinkled on top.
Plus SUPER BONUS - it's totally kid friendly too - so I'll add it to my kids yogurt, oatmeal, make Shakeology Pancakes or more fun, No-Bake Cookies! It's versatile for all to enjoy!
I get geeked out about the ingredients as there are NO GMOs, soy, artificial colors, sweeteners, flavors, or preservatives! The ingredients are sourced from all over the world, and the Shakeology creators regularly visit the farmers to test the soil and ensure the best farming practices are being followed.
I recommend this to everyone, regardless of what workout program you may be crushing, or NOT crushing (meaning, nursing an injury, postpartum pregnancy or on a workout hiatus). Nutrition is a learned behavior, and arming yourself with better options that come at a healthy convenience, will get you closer to nailing your goals, than say, NOT!  :)
Looking forward to working with you!!! It's time to TRANSFORM your LIFE forever!!!