[RECIPE] - Back To School Porridge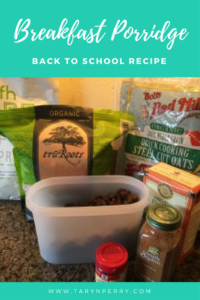 I have to give FULL credit to my beautiful Mom, as we have been working on changing some things in her diet (she has had to remove Gluten from her diet for health reasons - that stuff is a silent assassin!), so we've been researching some hearty and filling breakfast options, that one could made ahead.
Well, she hopped on
Pinterest
and took a spin to the Refrigerator Oats recipe and we put together this Breakfast porridge! It's SUPER DUPER easy to make and can be made ahead and put in the fridge to eat throughout the week!
HERE'S WHAT YOU NEED:
1/2 cup (rinsed) dry Quinoa
1/2 cup (rinsed) steel cut oats (I used Bob Red Mill's Quick Cooking)
1 cup water
1 cup Almond or Cashew Milk
1 scoop vanilla protein powder (I used
SFH
, can be bought on Amazon*)
1 cup Organic pumpkin puree
1/2 cup Organic raisins
Cinnamon
Nutmeg
Combine quinoa and steel cuts in a sauce pan with water and almond/cashew milk. Bring to boil, let simmer. Once liquid is soaked up, stir in
SFH protein powder
or yours of choice, and pumpkin puree. Stir well. Add in raisins and as much cinnamon and nutmeg as you please. Stir well and let sit.  Transfer to a air tight container and place in fridge to enjoy all week.
A little PORTION control tip, as it's easy to overdo it, even though it's healthy. Use the
21 Day Fix
containers (I used 1 yellow) to keep to your portions for breakfast. You can add 2 hard boiled eggs on the side (1 red) if you need more calories.
That's all there is to it!! Comment below and let me know how you do!! 
* affiliate link to sfh on Amazon.