Kitchen & Ab Makeover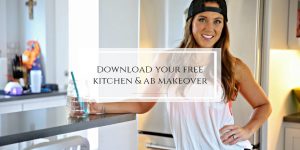 I started my journey in 2008 after my 2nd was born. I was 25 lbs over weight, I couldn't shed the baby weight anymore and was WAY overwhelmed being a Mom of 2 (I have 4 now, but more on that later) AND a newly stay at home Mom.
But being home ALL day with a potty-training Toddler and brand new breastfeeding baby, I allowed the stress to get the better of me. I held onto 25lbs of baby weight, I was moody, not sleeping well and SAD that I didn't have my career identity anymore. I loved working. It was my thing…and I was good at it.
So I had to find my identity again! And I knew if I wanted to feel better about myself, I had to BE THE CHANGE. If I wanted any resemblance of MY VERSION of Mommy abs, I need to change the relationship I had with food - as my metabolism wasn't like it was when I was in my 20's.
Over the course of this 9 year journey, I simplified the process and learned how to find balance and ease with it.
I want to show you the way too.
We will show you the simplicity behind preparing your KITCHEN to be the gateway to your sexy Mommy abs! Just fill out the form below and your Ebook will be on its way!
[popup_trigger id="5111" tag="button"]Get Your Ebook Now[/popup_trigger]