[RECIPE]: Salmon Cakes
I was telling my neighbor that we needed to fold in more seafood into our diets, as we get used to having the usual staples - chicken, ground Bison, chicken sausage, etc. She is the queen of healthy eating too, so she when she offered to whip up a batch of these Salmon Cakes for a weekend trip we had with our families, I had to have the recipe and fold them into our meal plans.
In full disclosure, these are from the
Whole 30 Cookbook
, and like any recipe I try, I tweak it to make it our own. Now, we have NOT done the
Whole 30 program
, but I understand the concept and believe that we need to get back to learning how to eat real food again. I know many that have had great success from it.
The one thing that appealed most to me with these is A) they aligned with my Simpleton needs, and were SUPER easy to make, B) they were kid friendly!
INGREDIENTS (Makes 9):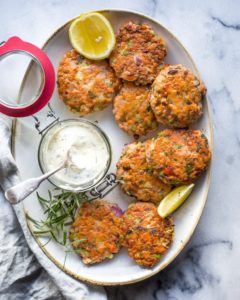 3 x 6 oz can of skinless, boneless salmon
1 cup sweet potato puree
1 egg
1/2 cup almond flour
2 tsp dried parsley (2 tbsp minced fresh)
2 green onions, sliced thin
2 cups spinach (or kale) finely chopped
2 tsp dried dill (2 tbsp minced fresh)
1 tsp salt
1/2 tsp of paprika or Cayenne
1/4 tsp of pepper
2 tbsp of cooking fat (to brush pan)
OPTIONAL Sriracha DIPPING SAUCE:
2 tbsp
Primal Kitchen Mayo
1 tbsp Sriracha (or more depending on desired heat)
1/4 fresh lemon juice
DIRECTIONS FOR SALMON CAKES:
Preheat oven to 425.  Line a cookie sheet with parchment, foil or Silpat. Brush it with your cooking fat. Drain liquid from canned salmon and break into pieces with a fork. Add all ingredients to a large bowl and mix. Divide into 9 patties using 1/4 cup to measure, press down slightly. Bake for 20 mins, then flip and bake for another 10 mins.
DIRECTIONS FOR DIPPING SAUCE:
Combine all ingredients and place a dollop on each cake for extra heat.
I'm telling you, these salmon cakes were super easy to make and we actually DOUBLED the batch, so we had extras for lunch and dinner the next day. They keep well and are just as good the next day. We served our salmon cakes on a bed of steamed spinach (but could use any greens), the kids had theirs with quinoa pasta.
Let me know if you try them and how yours turn out. You can tweak it to make it your own as well, but first crack, give the exact recipe a trial run.