[RECIPE] Chocolate Shakeology Pancakes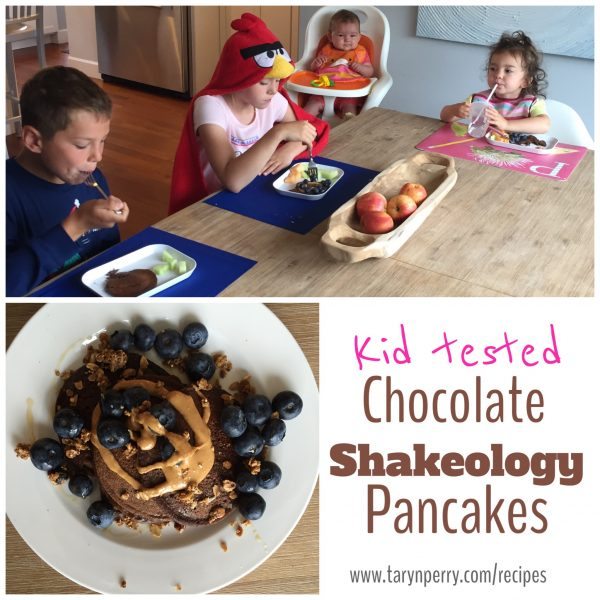 I don't know about you, but around our full house, there calls for PANCAKES on Sunday! And as much as I am a fan of the yummy fluffy IHOP style pancakes, they do NOTHING for my fitness goals, nor are the remotely as nutritious as these Chocolate Shakeology pancakes.
These are tried and true amongst 3 of the 4 little mouths that we feed each day (the 4th isn't quite there with finger food yet - but I know her mind will be BLOWN, when she can grub on them). Plus, these are totally
21 Day Fix
friendly, so I know I'm staying on point with my nutritious needs.
The kids LOVE these
Chocolate Shakeology
pancakes, and knowing how nutrient rich they are, it's a win-win for all!
Here you go, super easy, kid tested, Mommy approved!
Serves 2 (I double the recipe up below):
1 medium banana
1 large egg
1 egg white
1/4 cup of Gluten Free Oats (I use Bob Red Mills GF Oat Bran OR Almond Flour)
2 tbsp Unsweetened Almond Milk
1 tsp Vanilla extract
1 tsp of Baking Powder
1 scoop of Chocolate Shakeology
Dash of cinnamon
Put all ingredients in your blender, mix it up! Spray or put coconut oil on a griddle or pan and pour out of blender into 2-3" circles. Top with strawberries or blueberries and REAL Maple Syrup (I also garnished with some Purely Elizabeth Granola - just for fun).
Let me know if you try it! Be sure to go to my
Facebook page
and tell us your favorite family friendly meals!